Triathlon & Time Trial bikes are all about pure speed, with aerodynamic frames and powerful riding positions.
Road & Triathlon bike differences Back to top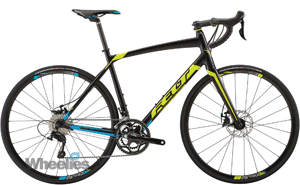 On the surface, a triathlon and time trial bike is very similar to a road bike. Both have lightweight & rigid frames, curved handlebars and narrow tyres. Underneath, they are very different animals.
Take a look at this comparison of these road & triathlon bikes from Felt, and you'll see that the two bikes are drastically different.
Compared to the road bike, the triathlon bike has:
Steeper seat tube
Tri-bar with additional aerobar instead of regular drop handlebars
Handlebar lower positioned
Shorter top tube
Shorter wheelbase
Rear wheel tucked in closer to the rider
Bottom bracket pushed forwards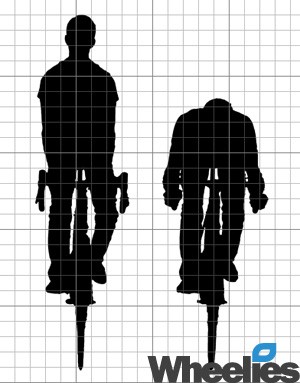 Aerodynamics
The rider position is aggressive, with a heavy emphasis on leaning forward with the arms down in front. Riding in this position helps to reduce the frontal area of the bike, making you faster and more aerodynamic.
It's surprising how much of a difference aerodynamic drag makes to a bike, so to put it into real numbers Specialized carried out a few wind-tunnel tests which you can see in the video below.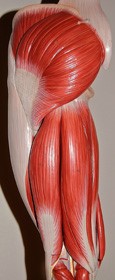 Powerful geometry
When it comes to your power output, the geometry of a triathlon bike, compared to a road bike, works your quadriceps and hamstrings in different ways and ultimately can lead to a higher power output at the crank. The benefit of working the legs in a different way are twofold for triathlon riders.
The unique format of a triathlon requires the rider to jump off their bike and immediately into their running shoes, but after a 50km cycle ride the last thing your legs want to do is run another 10km.
Compared to a road bike, the geometry of a triathlon bike doesn't place as much emphasis on muscle groups which are heavily relied upon while running, such as the adductor muscle in your hamstrings. Once you're off the bike, your legs won't be completely exhausted before starting the run, so you'll get better power and performance out of them for the next stage.
Handling
This is one area where triathlon bikes are noticeably less capable than road bikes, and it's to do with the way they're set up for being ridden in an aerodynamic position. Once you're up to speed and tucked in, the natural stability you get from a bike at speed makes it easy to handle. However, at low speeds (e.g. through traffic or when climbing) the narrow handlebar grip and aggressive aerodynamic riding position can make triathlon bikes very twitchy and difficult to manoeuvre.
Triathlon bikes are designed for high speeds on closed road courses after all, so it's no surprise that they're not so comfortable on a rainy commute at 7 o'clock in the morning.
Can I adapt my road bike for Time Trial?Back to top
If you're just getting in to triathlons and you're not entirely sure that you want to commit to a triathlon specific bike just yet, you can start adapting your road bike to make it better suited to TT riding.
Lower the handlebar height
This is free, and can be done on most road bikes as they leave the factory. More often than not, road bikes will be built and sold with several spacers beneath the stem and around the steerer tube. Moving these headset spacers from underneath to on top of the stem will lower the height of the handlebars.
This will encourage a lower, and more aerodynamic riding position. Depending on the bike, you may even be able to lower the bars by inverting the stem and setting it up with gative rise.'
Aero bar & clip on tri-bars
Replacing the existing drop handlebar with an aerobar & clip-on tri bar is one of the most direct ways of adapting your road bike into a TT machine. These will help you to comfortable ride in a more aerodynamic position and bring down your frontal area.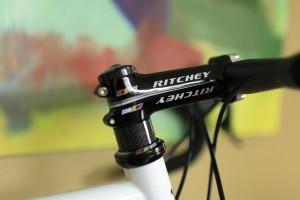 Shorter stem
While dedicated triathlon bikes typically have a shorter top tube, you may find that having adapted your road bike with an aero/tri bar is a bit of a stretch to ride in an aero position comfortably. A shorter stem will help to reel in those distant bars and make the aero tuck far more comfortable to ride in. Be sure to check the length of your existing stem before you buy – it will likely have its length already written on it. If not, just measure the 'centre-to-centre distance from the steerer tube clamp to the handlebar clamp.
Alternatively, it may be preferential to position the saddle further forward and shorten the reach that way.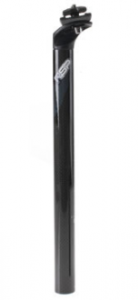 Layback seatpost
If your frame uses a round seat post (as opposed to an aerodynamic one) you can replace it with a layback seatpost. In essence, a layback seatpost, like the RSP Carbon Layback Seatpost pictured, is one where the saddle rail clamp 'lays back' from the centreline of the post itself, effectively positioning the saddle further backwards.
By rotating a layback post 180 degree, it effectively becomes a 'lay forward' seatpost, moving the saddle forwards and shortening the reach of the bike. Used in conjunction with tri bars, moving the saddle position forward can make it much easier to position yourself more aerodynamically. The downside to a layback seatpost is that you can't use one on bikes which have an aerodynamic seatpost, so they're not an option for everyone.
---